fwallenwein schreibt

This is the latest version of our SeaTalk(R) Nmea bridges and repeaters.

The SeaTalk <-> NMEA Bridge is a stand alone single chip computer, that translates information between SeaTalk and NMEA. It can read & write NMEA and read & write SeaTalk data.

It translates SeaTalk data into NMEA data, so that you have depth, wind speed and direction, water temerature, position, rudder angel, speed etc. available on your board pc.
It translates NMEA data into SeaTalk, so that you can, for example, control the autopilot from the navigation software on the board pc.
The seatalk bridge comes with housing and LCD display.
This LCD Display acts as an additional display for relevant navigation data from Seatalk and NMEA devices right on the chart table.
A keyboard allows easy switching between display pages and setting configuration.
Built-In autopilot remote control. Control your autopilot directy. ( +10,+1,-1,-10,Auto,Standby,Track)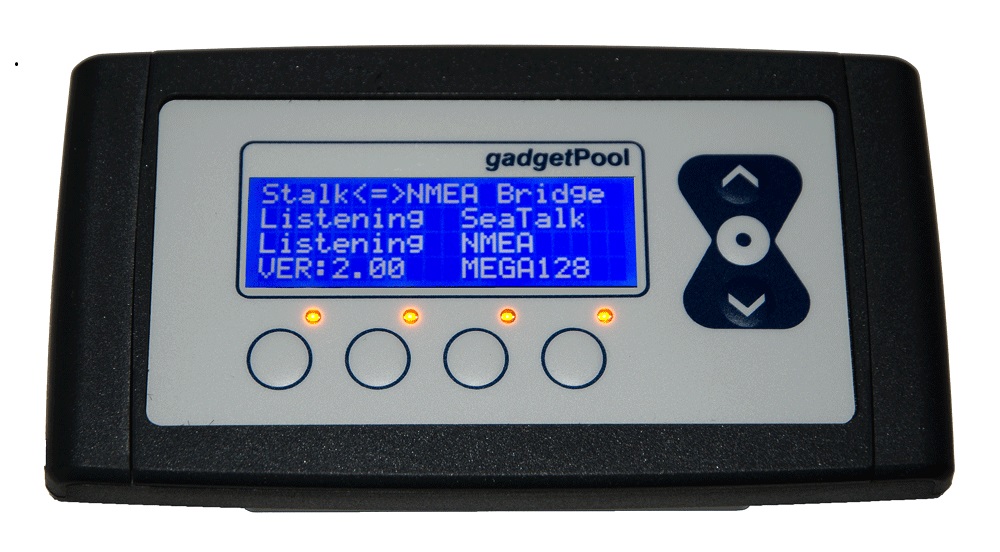 SeaTalk is registered trademark

of Raymarine Ltd. Raymarine

You can get the SeaTalkNmeaBridge128SD in our Webshop

Sie können die SeaTalk Nmea Bridge128SD in unserem Webshop finden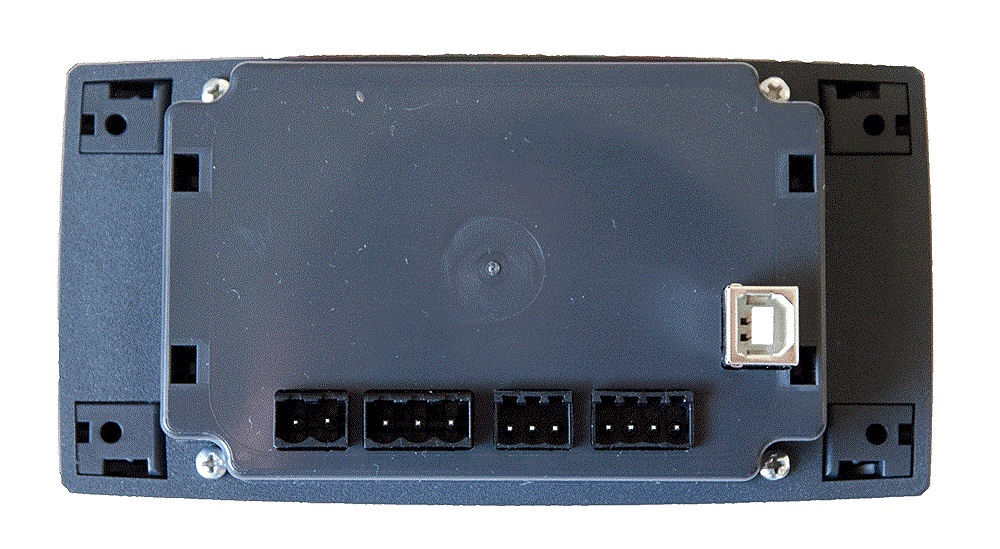 Power, SeaTalk , RS232, NMEA , USB

detachable terminals for easy wiring.
1 * SeaTalk Port ( read & write SeaTalk ), galvanic isolated
1 * RS232 Port ( read & write NMEA data )
1 * NMEA Port ( read & write NMEA data ), IN-Port galvanic isolated
1 * USB Port ( read & write NMEA data )

Data flow
The bridge reads NMEA Data from from the USB port and also from either NMEA or RS232 port.
It sends NMEA Data to the NMEA port, the RS232 port and the USB port.
It receives SeaTalk data from the SeaTalk port, translates this data into NMEA sentences which are sent to NMEA,RS232 and USB.
Received NMEA data are translated into SeaTalk data and sent to the SeaTalk port.
(Sending SeaTalk can be switched off )

Both NMEA and SeaTalk data are shown on the display.






| | | | |
| --- | --- | --- | --- |
| Stw | Speed through water | XTE | Cross track error |
| Sog | Speed over ground | Brg | Bearing to waypoint |
| Dpt | Depth | Dst | Distance to waypoint |
| Tmp | Termperature | Trk | Track ( course over ground) |
| N/E | GPS postition | Tru | Display TURE wind data |
| Trk | Track ( course over ground) | App | Display apparent winddata |
| Mag | Course magnetic | | |
| WSpd | Wind speed | | |
| WDeg | Wind direction | | |
| Cmag | Course magnetic | | |
| Trip | Trip milleage | | |
| Tot | Total milleage | | |
| | UTC time | | |
| From | Route waypoint name "From" | | |
| To | Route waypoint name "going to" | | |
---
Technical data
Width

141.5 mm

Height
75.0 mm
Depth
37.5 mm
Weight
165.0 grams
Clearance hole
Width
104 mm
Clearance hole
Height
66 mm
Minimum cable clearance behind panel
40 mm
Supply voltage
8 to 30 Volt DC
Current consumption
60 mA idle,
50 mA backlighting off,
100 mA peak (12 Volt)
Configuration
Board configuration can be set directly on the board.
A special LCD display page allows changes of configuration settings stand alone, without computer.

If you prefere to change configuration settings on a PC, we have
a configuration and monitoring software available for download on our webpage.



This software is also used for firmware updates and SeaTalk Network monitoring.




You can get the SeaTalkNmeaBridge128SD in our Webshop

Sie können die SeaTalk Nmea Bridge128SD in unserem Webshop finden






: