!!!! Tiny USB SeaTalk NMEA Link
Datum: Sonntag, 07.Januar. @ 00:02:17 CET
Thema: Boat electronics - Yachtelektronik


Tiny SeaTalk NMEA Bridge with USB

(optional RS232 connection available )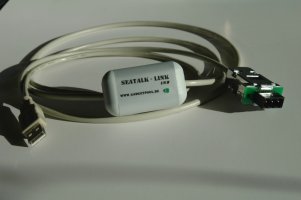 Read More .......
Click on picture to get a larger image


The easy way to bring SeaTalk instrument data to your boat computer and navigation software.

The easy way to send data from your navigation software to SeaTalk instruments.



This tiny SeaTalk NMEA Link has :

1 * SeaTalk Port
1 * USB ( or optional 1* RS232 ) NMEA Port

You simply connect this device to your SeaTalk network and to your boat-computer - using a USB port ( or optional a standard serial port ) - and you'll get all sort of data from your SeaTalk instruments.

SeaTalk data will be translated to standard NMEA sentences, that can be used by any normal software on the pc. ( SeaClear, Fugawi, Offshore Navigator and all the others. )

Functions :

Read SeaTalk -> Send to NMEA port
Read NMEA -> Send to SeaTalk



Depth ( $IIDBT ), (optional $IIDPT)

Apparent. Wind speed. & angle ( $IIMWV )
Speed through water ( $IIVHW )
Compass heading ( $IIVHW and $IIHDM )
Water Temp. ( $IIMTW )
Trip & Total Milage( $IIVLW )
Position from SeaTalk GPS ( $IIRMC ) (optional $IIGLL)

Time & Date from SeaTalk GPS ( $IIRMC )
Speed over Ground from GPS ( $IIRMC )
Cog from SeaTalk GPS ( $IIRMC )
rudder position ($IIRSA)

special $STALK Sentence - shows any incomming SeaTalk datagram as a "$STALK,xx,yy,zz" sentence.


Wind speed
Wind angle
Speed through water

Compass heading
Trip & Total Milage
Position lat/lon from GPS

Speed over Ground from GPS

Cog from GPS
Next Waypoint name, distance, direction, XTE

Special $STALK sentence. Allows you to send any SeaTalk datagram



Just connect the SeaTalk NMEA Link to your PC and to your SeaTalk network, and you have Depth , Wind, Watertemperature, Speed, Position, mag. bearing - and other data from your SeaTalk network in your navigation software. Works with free chart plotter software like SeaClear or standard navigation programms like Fugawi, NaviCharT etc..


This tiny bridge will be approx. 60 mm long, 40 mm wide.
It'll come in a small housing, with USB cable ( or otional RS232 Cable )
and SeaTalk terminals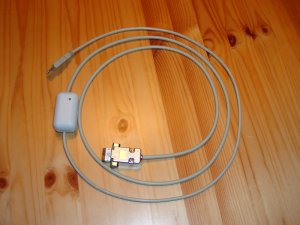 - This picture shows our USB Version -


SeaTalk connection is available with screw terminals mounted in the small housing.



This smal version of your SeaTalk NMEA Bridge is supposed to be an easy way to connect existing SeaTalk instruments to a computer.
It does not provide a NMEA output port, just a USB (or RS232) port. It will not have a display.


The Software will have the same functions, the big SeaTalk NMEA Bridge has.
It comes with a bootloader, that allows you to update the SeaTalk NMEA Bridge software.



Manual
You can find the Users Manual HERE
Hier finden Sie die Deutsche Bedienungsanleitung


Shop
You can find the USB-SeaTalk Nmea Link in our Webshop


Latest News :
We now also have a galvanic isolated version of the tiny SeaTalk Nmea Bridge available
Galvanic isolation protects your board computer and your instruments.
Galvanic isolation is especially interresting if your have different power sources for the board computer and the instruments. I.e. the board computer can be connected to shore power, if you have different batteries for computer and instrumentation. It also protects your computer and your instruments in case the SeaTalk Nmea Link should accidently be connected with reversed polarity.
It simply makes the whole system more more reliable and safer.

For more information - click here -


---